The Original Accu Chek aviva strips are now the Accu-Chek Aviva Plus. Larger, wide-mouth test strip Eight electrodes at top of strip work with meter technology to help the system detect and prevent unreliable results. The Accu-Chek Aviva PLUS glucose test strips give you accurate and easy test results the first time. Their wide mouth dosing allows you to easily apply the required blood sample to the test strip. Aviva glucose test strips feature alternate testing sites and automatic expiration checks. The advanced electrode testing gives you the assurance of accurate test results each time. The Accu-Chek Aviva diabetes test strips give you fast and accurate 5 second results.
The Accu Chek Aviva PLUS Test Strips Features:
Small Blood Sample: Aviva test strips only require a very small blood sample (0.6 microliter of blood) to make blood glucose testing easier and less painful
Touchable Wide-Mouth Test Strips: The Aviva wide mouth test strips allow you to fill the test strip on the very first try, avoiding painful retesting. The larger size makes it convenient for people of all ages to handle the test strips and place them into the meter. The Aviva test strips make blood application a breeze by quickly attracting and absorbing blood samples. In a recent study 97% of testers filled the strip correctly on their very first try! The ACCU-CHEK Aviva system allows double dosing, so you can apply more blood if needed, and waste less strips.
Confident Electrode Testing: The Accu-Chek Aviva test strips have eight electrodes atop each strip. The electrodes work with the meter technology to detect and prevent unreliable test results.
Alternative Test Sites: The Accu-Check AVIVA PLUS diabetes test strips can be used on alternative testing sites like the palm, forearm, upper arm, thigh, or calf, as well as the fingertip. Avoid the pain associated with having to use the same test site each time.
Automatic expiration check: The meter will not allow you to test samples using an expired test strip or a damaged test strip
Benefits Arthritis Users: The ACCU-CHEK Aviva test strips and ACCU-CHEK Multiclix lancing device are part of the first complete system to receive the Arthritis Foundation's Ease-Of-Use Commendation. The system has an easy-to-use grip and helps you test right the first time.4 In independent lab testing, the ACCU-CHEK Aviva system was found to help people living with arthritis check their blood sugar easily
Easy to Use: Simply place a test strip into the ACCU-CHEK Aviva glucose meter, place a drop of blood in the yellow window and wait for your results!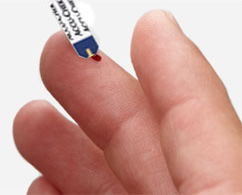 You only need a tiny 0.6 μL blood sample forAccu Chek Aviva Plus test strips.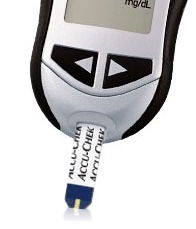 With Aviva Plus test strips, you can see your results after a 5-second countdown.
UPDATED DESIGN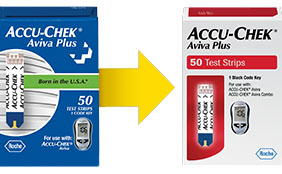 New red packaging. Same trusted accuracy.
Includes:
50 Accu-Chek Aviva PLUS Diabetic Test Strips
Aviva Plus Test Strips Notes & Specifications:
For use with the Accu-Chek Aviva Plus Glucose Meter Kit
Preferred on most healthcare plan formularies, so you may save money.
Package includes 50 test strips
For Testing Glucose in Whole Blood
IMPORTANT SAFETY INFORMATION:
Your health and safety are always our top priority. The ACCU-CHEK Aviva Plus test strip, along with the current ACCU-CHEK Aviva meter, now delivers accurate test results in the presence of maltose, making the system suitable for use by people on peritoneal dialysis using solutions containing icodextrin, such as EXTRANEAL dialysis solution, and people receiving therapy with solutions containing maltose, which is present in some immunoglobulin preparations (such as Octagam 5%, WinRho SDF Liquid or HepaGam B) or other therapies that contain or metabolize to maltose (such as Orencia , ADEPT or BEXXAR). If you are undergoing these therapies, make sure that you are using the ACCU-CHEK Aviva Plus test strip and ACCU-CHEK Aviva meter. If you are using other ACCU-CHEK blood glucose systems in conjunction with peritoneal dialysis, your glucose readings will be inaccurate.For more information, please check the insert provided with your product or call ACCU-CHEK Customer Care at (800) 858-8072.For more information about EXTRANEAL (Icodextrin) and blood glucose testing, visit the Baxter Glucose Safety Web site.
Best Expiration Date Guaranteed!